Over the past few years, Bruton Primary School has seen an increase in the number of complaints from local residents regarding parking issues, and complaints from parents/carers about the safety of children on and nearby the streets leading to school.
As a result, Bruton Primary School has been highlighted as a potential school who could benefit from a School Street scheme. If the scheme was decided to go ahead, the trial period would start at the beginning of next academic year (September 2023).
It would run for at least six months; with the hope that it would become permanent if the school and local community supported the scheme.
How will the School Street run?
To achieve a School Street for Bruton Primary School we are proposing to close Higher Backway from St Catherines Hill entrances and Higher Backway from the Pre School during drop off and pick up times (excluding school holidays and weekends).
During the closure periods, stewards will be present to help enforce the scheme and to welcome families arriving at the School Street on foot, scooter or cycle. Closure times are suggested to be for 45 minutes on weekdays between 08:30-09.15 and 15.00-15.45, term time only.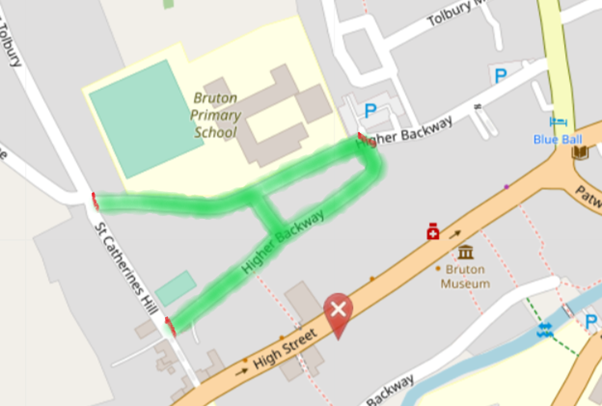 Source of image taken from www.openstreetmap.org accessed 04/05/2023
**Red lines shown in the map are the suggested location of the temporary road closures. The green marked roads would be included in the closure points. Parking area outside the pre school would be accessible as a turning circle/parking.
Please share your views with us
Before answering the following questions, please make sure you have read and understood the information provided about School Streets and the proposed trial.
This initial consultation will help us to make an informed decision about the progression of the scheme, this initial consultation will last for 2 weeks from Friday 26th May until Friday 9th June