Yeovil has been transformed into a giant game thanks to National Lottery funding from Sport England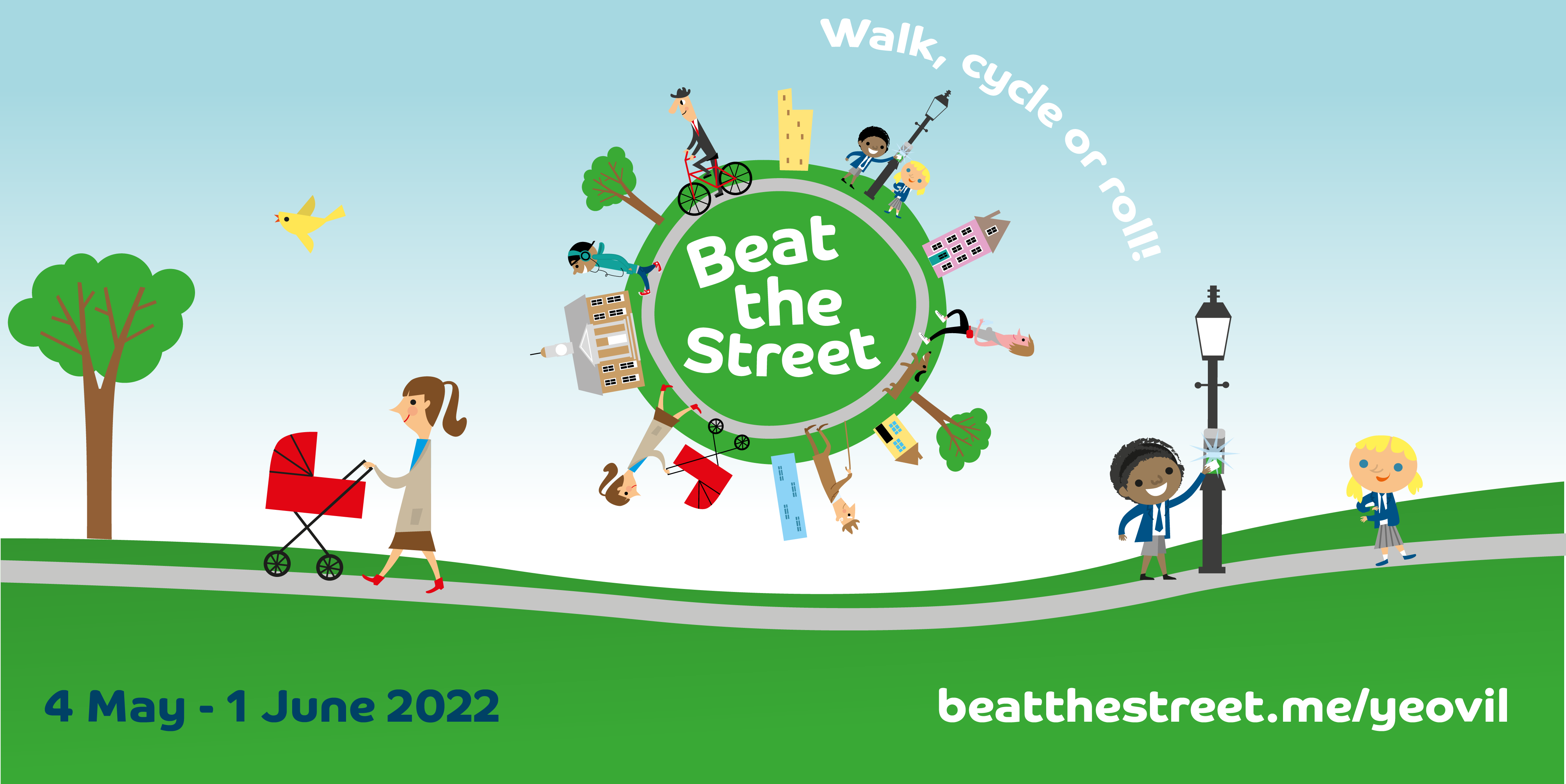 An innovative physical activity game that has engaged more than a million people has launched in Yeovil, South Somerset.
The Beat the Street game started in Yeovil on 4th May, and will run to 1st June 2022 thanks to a National Lottery grant from Sport England.
Beat the Street encourages people to get outside and to get active and is open to anyone of any age who would like to take part. The game works by turning the town into a real-life game and residents will be able to use special sensors called Beat Boxes on lampposts around the area to play.
Primary school pupils from 13 participating schools have been provided with cards while parents and teachers have also received a card from the school so they can accompany children. The wider community can pick up a free contactless card from a distribution point listed on the website: www.beatthestreet.me/yeovil/
Players join a school or community team to play, or you can set up your own with a minimum of 6 players. Players then walk, run, scoot, wheel, or cycle between the 37 Beat Boxes which are spaced half a mile apart – tapping the fobs or cards as they go. The further players travel, the more points they score.
Beat the Street was created by Dr William Bird MBE, an expert in physical activity and the founder of Intelligent Health. He said: "Beat the Street has not only had a significant impact on increasing low levels of physical activity amongst adults and children, but also helps reduce congestion, improves air quality, and helps families spend time in green spaces together. It has been adapted to ensure that it's safe to play during the COVID-19 pandemic with contactless cards".
Jane Knowles, Somerset Activity and Sports Partnership CEO said: "We are incredibly excited to be bringing this game to Yeovil this Spring. We have seen fantastic results from the games in Bridgwater and Taunton and hope to replicate the enthusiasm and fun this game brings in Yeovil. We know that one of the best things people can do right now for their physical and mental health is to move more and to get out into green space where possible, and Beat the Street really helps people do just that in a safe way.
"It's free to take part in Beat the Street and it's open to everyone regardless of age, ability or background. It's an inclusive game that encourages you to exercise from your front door and to clock up the miles within the game framework."
According to research, one in four people in England does less than 30 minutes of physical activity a week, which classes them as inactive. Four out of five primary school children do not get the recommended amount of daily exercise of 60 minutes a day.
The game is jointly run by Somerset Activity and Sports Partnership (SASP), Somerset County Council and South Somerset District Council.
The National Lottery funding from Sport England will not only help people in Yeovil to get active, but also to leave a positive legacy to improve the community's health and wellbeing.
For more information on updates on the game, please click onto www.beatthestreet.me/yeovil/ or follow 'Beat the Street Yeovil' on Facebook and follow @SASPsomerset on twitter and @sasp_somerset on Instagram.
Beat the Street is run by run by Somerset Activity and Sports Partnership (SASP), Somerset County Council and South Somerset District Council, funded by the National Lottery via Sport England, and managed by Intelligent Health.